meanwhile - photobucket has upgraded - now a user is limited to a pathetic 1024 max pixel size which sucks shit.
some progress on the pit detailing, a little more painting to do
now what's this you may think.......
it's the small ''top of the T'' radar piece that goes onto the radar dish - GWH molded it as a one piece ''T'' part - which snapped of as i gently brushed it - and it was gone.
Being such a small part I looked over the workspace and didn't find it - couldn't be bothered trying to search the carpet for the thing - I just scratched another one.
so that is a scratch made bit and ready to go onto the pole I made up which has been attached to the dish.
I also added some wires and some made up cabling.
Tried Chuk's method of making cable fasteners from thin metal foil
Now for some strange reason there are things in the modelling world one cannot explain.
Just before I the part snapped and took off into the wide blue yonder, I painted one of the cables red.
Did you spot anything unusual??
I didn't until I painted a bit of black on the red cables ends.
The unexplainable!
follow the dots to the arrow head!
The circled one is my scratch made part
there is the snapped off radar dish T piece - stuck fast to the red paint!!!
WTF !!! or more to the point HTF did it fly there and stick to that wet paint is beyond me!!!
I think that is enough cables for the radar unit - which is now under lock and key until it gets fitted!!!
-------------------------------------------
this thing is now the number one official biggest PITA tailsitter I've ever had the displeasure of building!.
Reading weight requirements of less than 16 grams in a 72nd version, this needs - 55 grams Minimum!! to hold it down on the front wheel.
as it is in the pics it just stays put, but the problem, there is no way you can fit all those lead balls into the space shown by GWH to add the weight.
It is clear now why they didn't supply the shown molded weight pictured on the instructions - it didn't work so they deleted it from the kit.
It is supposed to fit between the back of the IP and back of the radar bulkhead - nadda! no way possible for 55 grams = 6 lead balls.
The available space given to add weight would fit a max 2 of those lead balls, hammered down to a shape.
With the glass nose that shows the radar array, putting lead in there to be seen would be just plain stupid.
The only thing I can think of is to mount this onto a small dio board with fixed attachments to all three wheels.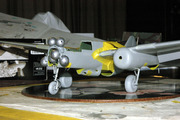 ------------------------------------------
Please excuse my crude drawings!
I've lined up the wing to the fuse join position so you can see the Centre of Gravity - red line vertical is about it.
you can see up front where GWH shows you to place the nose weight - #2 is the space they give, dotted line is the radar bulkhead, and IP sits where the short red line is.
55g of lead to fit there......
W is where you could pack in the lead, but I suspect being further back to the rear just how many extra grams of lead would be needed!.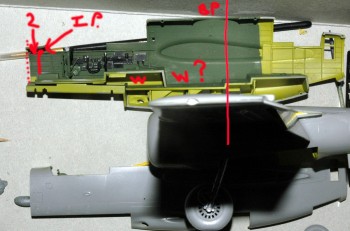 Here are the main gear leg attachment points - two small pins X that go into precut hollows in the bay,the arrow points to a glue join, and believe me it's not that strong!
1 is a point where I intend to apply glue for a bit more strength - not shown by GWH as a glue point.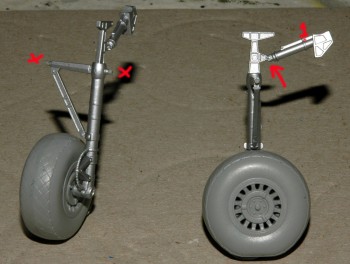 here you can see just how tiny those attachment pins are, I am thinking about replacing them with brass tube for more strength.
This is also adds fuel to the fire on just how much added weight these would take.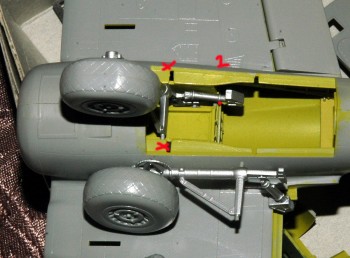 the dotted line shows how critical the fit needs to be when gluing in the gear bay, my mistake here was not aligning it with the other nacelle half dry fitted to check before the Ca glue hardened, will have to add a thin piece of plastic to cover the dotted line area and give some strength to the exposed pin
front wheel attachment points are not much better, again four small pins to support the weight, and I did glue that front support plate wrong - fixed now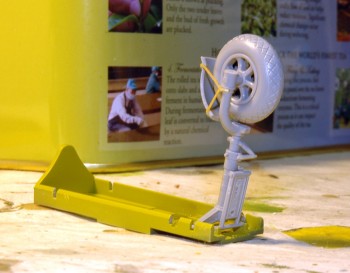 I think if I added sufficient weight to the available areas the model would weight a tonne! so my thoughts of a small dio board with the three wheels fixed is looking good to me at the moment!
have ordered this, which I will set in a picture frame or make up a smaller board like my large ones.
http://www.bnamodelworld.com/aircraft/aircraft-aftermarket-sets/for-aircraft-1-48/tarmac-display-base/1-48-psp-coloured-pre-painted-model-pad-400x300mm
which I think will look rather good with some modelling sand scattered over it and a few added extras, jeep, figs etc.
----------------------------------------
I played around with weights again today to see just how much it would take - gave up once it started to droop in various places - the mask tape wouldn't hold it together!!
It will be fixed to the board, so the weight prob is fixed for now.
Started the guns - the two 20mm on the left are just black basecoat, right two have been ''metalized'', the 50 cal has just been started